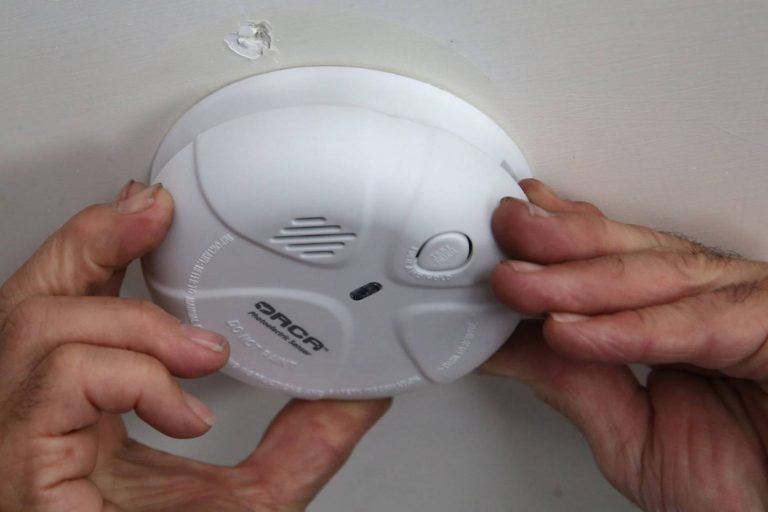 Smoke Alarms Australia: Nearly 9% of Australians haven't ever replaced their smoke alarm battery even though they've been alerted that this should be done once a year in order to keep their family safe.
Smoke alarms are early warning alerts that let you know a fire has started. Providing early warnings like that keep families safe and also alert the neighbours of danger.
Deaths from fires in the home often occur during the night time because the occupants are asleep, not hearing the fire or smelling the smoke.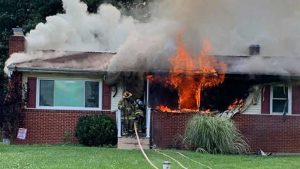 That's 9 out of 10 of us not giving the dangers of not having smoke alarms in their home a second thought.
Another 29% of us admit they haven't a clue about when and how to test their smoke alarms at home, according to research completed by insurance company QBE2
Add to this the fact that 19% of Australians don't even know how often to change their smoke alarm, and you can see the size of the problem. Only 14% of us know home smoke alarms should be replaced every 10 years.
"The research done by QBE2 really suggests that 38% of Australians are showing a lack of knowledge and don't seem to realise how vital the role of maintaining home smart alarms is to the safety of their family," says David Frappel, CEO of 2Link Innovations, suppliers of the Smoke Alarm Safety Switch.
"The range of smoke detectors available for use in peoples' homes is large," says David.
"Make certain you always check the instructions for replacing your alarms' batteries and for testing them."
David says you must make your safety a number one priority and get help from experts if you are unsure of any aspect of your smoke alarms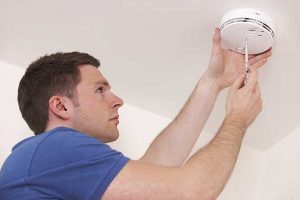 "I always think its a good mind trick to associate a given date in the year with the day you should change your smoke alarm's battery.
"Choose Boxing Day, or your birthday… even your wedding anniversary or Anzac Day.
The final statistic from the QBE2 survey is perhaps most concerning: 17% of Australiams have no plans to change their smoke alarm battery any time in the future..
Smoke Alarms Australia: Why Should You Have a smoke alarm?
All states and territories in Australia have laws which make smoke alarms compulsory for residential dwellings. Different states have different laws so it makes sense to check the laws in your state.
The CSIRO has tested smoke alarms available in Australia to make sure they comply with ustralian Standards and their website also has links to each state's emergency services.
An example is in NSW where the law says you must have smoke alarms installed in every level in your home. This applies to owner-occupied dwellings, rented properties, relocatable homes and caravans/campervans and any other dwellings where people sleep overnight.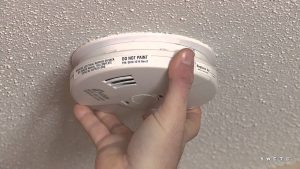 To be specific, this means alarms must be located in hallways leading into bedrooms, but if there are bedrooms elsewhere in the house, each one must also have its own alarm, or at least an alarm must be installed into that part of the house which leads to the bedroom.
There are many styles and types of smoke alarms on the market in Australia. Photoelectric alarms are preferred by many experts because they can detect smoke generated by smouldering synthetic materials much quicker than ionisation alarms.
This is important because materials can smoulder for a few hours before bursting into flames and it is vital to detect any house fire as soon as possible so risk can be minimised and people inside the home can escape to safety.
Fire which produces smoke can fill the home and create serious breathing and visibility problems, says David.
"The best smoke alarms Australia offers can respond to smoke within a few minutes, which is vital when you consider how quickly a house fire can escalate into a dangerous life-or-death situation."
"Always check that your smoke alarm complies with the AS3786 Standards Australia certification, says David.
How to Maintain Your Smoke Alarm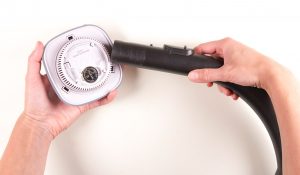 Smoke alarms save lives. Studies have shown that the chance of death in a house fire is cut by more than half if smoke alarms are installed and properly maintained.
If existing smoke alarms Australia has on offer were manufactured less than 10 years ago, and are functioning properly, they will almost certainly comply with the new smoke alarm laws.
However, it is crucial for property owners and managers to have a full understanding of the new smoke alarm standards and the timeframes within which they must be implemented.
Some smoke alarms are mains powered but also have a battery backup. Most experts say you should replace these batteries once per year or according to the manufacturer's instructions.
About Batteries
Other models have a pre installed fixed 10-year battery, most often a lithium battery, which lasts for the life of the alarm.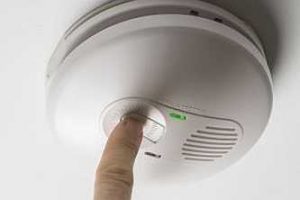 "A smart option is to press the test button on your smoke alarm every month," David advises. "You can clean your smoke alarm with a vacuum cleaner every 6 months which is great because this helps keep your alarm in working order by removing dust particles."
You should also replace your smoke alarm battery annually, although the ones with a built in lithium battery can't be replaced, so make sure you test your alarms every month, and when they fail the test, you should replace them immediately.
If you aren't sure about any aspects of testing, checking and replacing your alarm battery, contact someone who is licensed to check your alarm.
If your alarm doesn't work, it can't help to save lives.
How Do I Clean and Test my Smoke Alarms?
Every month: Hold down your alarm's test button, letting go once you hear a loud alert tone. If you can't reach the button, access it with a broom handle… just make sure you don't cause any accidental damage to the alarm itself.
Annually: Use a soft brush attachment to vacuum around the vents of your smoke alarm. This will stop any buildup of cobwebs and dust.
Annually: Apply surface spray on the ceiling about 20cm outside the alarm to stop any spiders or insects getting inside and building nests.
Annually: Replace the alarm battery without exception.
How do I know when my smoke alarm needs replacing?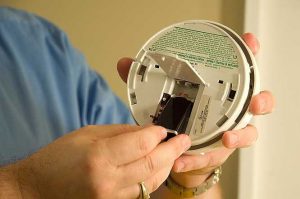 Legally all smoke alarms in Australia must be replaced every ten years by law. If your alarm has reached the end of its life, or if its battery needs replacing, it will emit a chirp or beep.
Check the manufacturer's instructions before changing your alarm's battery. If you've successfully changed the battery but your alarm continues to beep or chirp, you will need to replace the whole unit because it is no longer functioning.
If your smoke alarm is mains powered with a rechargeable battery it may give a low power alert if your mains electricity has been off for a long period. Just give it time to recharge but after a few hours you may need to replace the alarm, especially if there have been extended periods of power outages.
The battery degrades more quickly if this is the case. You will need to get a licensed contractor to replace any mains-powered alarms.
Smoke Alarm Maintenance for Rented Properties
If you are renting your property you are legally required to keep your smoke alarms functioning properly, and make sure they are less than 10 years old.
We recommend that you follow this routine:
Alarms must be installed properly (you can't use double sided tape) in the correct locations as defined in the Building Code of Australia.

Make sure the power source for your alarm is connected. In the case of mains-powered smoke alarms, if you stand directly underneath the alarm you will see a green display light which indicates mains power is connected.

Test the alarm every month if possible, but at a minimum, every six months

Make sure there is no buildup of cobwebs and dust

Vacuum and surface spry as per above

Ensure the alarm is within its service life, as per above

Replace the batteries every 12 months
It is recommended you undertake this schedule of maintenance at every inspection. Property managers and landlords should keep comprehensive records of their schedule of maintenance
Radiation is No Problem
Radiation is all around us. It's in our food, the air we breathe and in our home. We call this our background radiation, occurring naturally all around us. There is also radiation from radioactive materials created by mankind. Once such material is Americium-241.
This is used in some smoke alarms Australia has available.
But it can't hurt you in any way. The radion emanating from smoke alarms is less than one-thousandth of our background radiation, which can't hurt us. A house fire also cannot melt the radioactive materials in smoke alarms.
Safe disposal of Smoke Alarms in Australia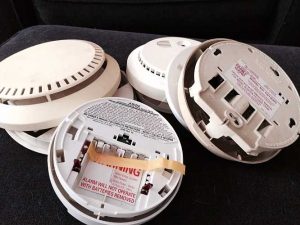 It is completely safe to dispose small numbers of smoke alarms in your domestic rubbish bins.
When you wish to get rid of more than 10 radioactive-style alarms, simply bundle them together.
They will need to be treated as radioactive waste, and the requirements of the National Health and Medical Research Council's Code of Practice for the Near-Surface Disposal of Radioactive Waste in Australia (1992) must be met.
Contact your state or territory radiation control authority for advice.